Meet us at our Final Conference "CrOpportunity – Perennial Crops for Bioeconomy" at the EU Bioeconomy Conference in Brussels – see our amazing new biobased materials and talk to the members of Dendromass4Europe, GRACE and MISCOMAR+!
You will be forwarded to EventBrite.
Date: 05.10.2022, 14:00 – 17:30 CET
Location: Rue du Champ de Mars 21, 1050 Bruxelles (Belgium)
Topic: CrOpportunity – Perennial Crops for Bioeconomy
Find more information about the event: https://www.dendromass4europe.eu/events/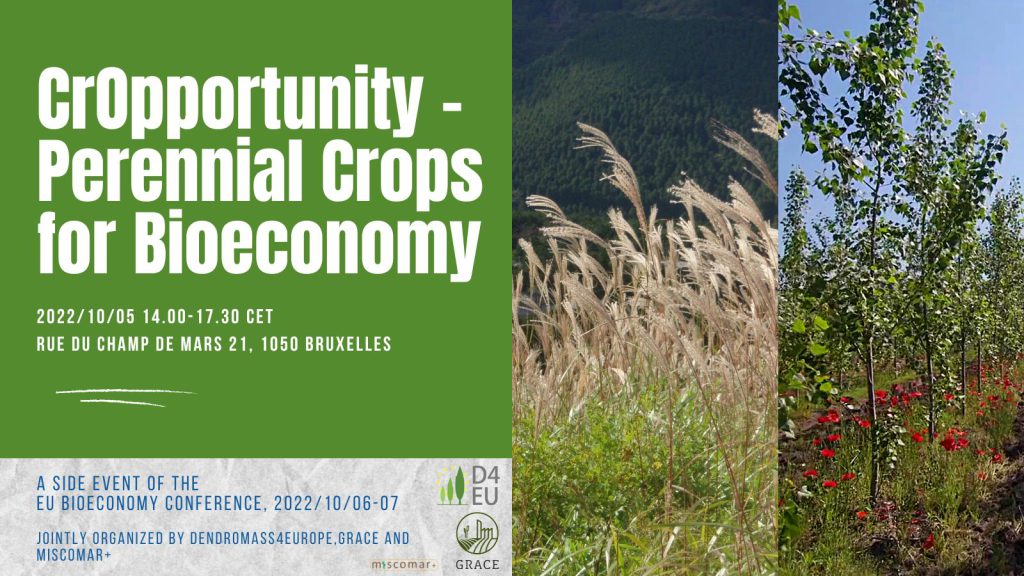 "CrOpportunity – Perennial Crops for Bioeconomy" – exciting insights of three European projects:
Dendromass4Europe has established sustainable Short Rotation Coppice (SRC) with poplars as an additional cropping system for agricultural dendromass production on marginal land – the dendromass produced (ligneous biomass, bark and wood) is supplied to dedicated bio-based value chains, in which five innovative bio-based materials have been successfully introduced to the market.
GRACE is demonstrating 10 complete value chains from the biomass production of miscanthus and hemp on low productive, contaminated or abandoned land until novel biobased products.
MISCOMAR+ is focusing on improving establishment of miscanthus on low quality arable and contaminated land and researching novel use options for miscanthus biomass, including gasification of biomass from contaminated land and paper production.