In the immediate vicinity of the IKEA Industry plant just outside Bratislava (Slovakia), young poplars grow and thrive on around 1,300 hectares surrounded by flowers, butterflies and wild bees. The fast-growing tree species is the wood raw material from which even lighter furniture will be built in the future. Parts of the tree, such as the bark, that are not used for furniture production can be further processed by other companies into new types of products in the spirit of a sustainable bioeconomy. Two new companies were acquired for this further processing at the beginning of the year.
In Polenz near Neustadt in Sachsen (Germany), the company Pulp-Tec Compound will in future produce a compostable biomaterial for flower pots using poplar bark. Available under the name BIOFORM®, the products are stable yet fully compostable thanks to the anti-mold properties of poplar bark. The next gardening season can thus start without mountains of waste from plastic pots and transport trays. Those who wish can even plant the new garden greenery together with the BIOFORM® plant pot, as it completely dissolves in nature after a few months.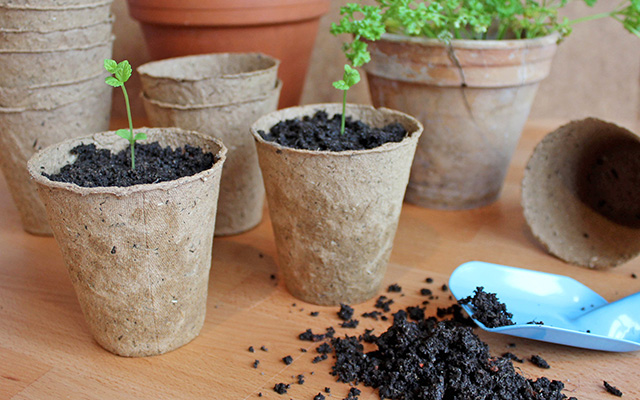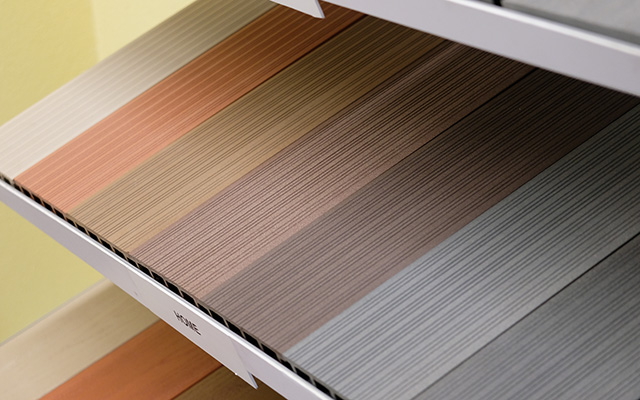 As a second new project partner, the Czech company TerrainEco will develop a process with which poplar bark can also be used in wood-plastic composites (WPC). WPC is currently enjoying increasing popularity for decking, fencing and facade cladding, as it combines the positive properties of wood and plastic: as chic as wood, yet as durable and easy to maintain as plastic. Until now, the valuable and therefore rather expensive raw material wood has been used in the production of WPC. TerrainEco therefore wants to develop a composite material that can be produced more cheaply as well as having a better ecological balance. Poplar bark, which until now has at best ended up in incineration to generate process heat in factories, appears to be a promising alternative here.
Bioeconomy: Sustainable raw material use and processing.
An important focus of the Dendromass4Europe research project is to process all components of poplars into high-quality products. While poplar bark has so far often remained unused or been burned for energy production, the research team also wants to store the carbon dioxide bound in the bark in the long term. To achieve this, the entire value chain from cultivation to harvesting, transport and use of the individual poplar parts must be coordinated in detail between the participating companies IKEA Industry (Slovakia), Pulp-Tec (Poland), TerrainEco (Czech Republic) and Pulp-Tec Compound (Germany). IKEA Industry mainly needs the thicker parts of the poplar trunk. Until now, IKEA Industry has mainly used pine wood, but was looking for a new type of wood that would enable the production of lighter and stronger material boards for furniture production and relieve forests as a source of raw materials. A desirable side effect is also the CO2 savings due to short transport routes and easy handling of the logs. The poplar parts with a high bark content, such as the upper trunk sections and branches, are processed by TerrainEco into durable and low-maintenance wood plastic composites (WPC), for example for fences and decking. These can be recycled several times. All they have to do is grind them and add them to new WPC molds. In addition, anti-fungal substances can be extracted from poplar bark and used for mold-resistant cardboard packaging. Pulp-Tec Compound, a company located in Polenz near Neustadt in Saxony, Germany, will use this principle to produce environmentally friendly plant pots. These are made of cardboard and are therefore 100 percent compostable in their own gardens. However, the added anti-fungal substances from the poplar bark prevent the plant pots from starting to mold while they are still in the store. The degradation process of the poplar-containing Bioform® plant pots only begins after about 6 months. Pulp-Tec Compound and the project team want to counteract the increasing plastic pollution with these innovative bio-based materials.
The combination of several value chains based on poplar wood and poplar bark thus represents a real contribution towards a bioeconomy worthy of the name. The further dissemination of this model of a more sustainable, bio-based production through cultures of fast-growing trees on agricultural land, which has arrived in practice, is highly desirable for the growing independence of our European economy from fossil raw materials. Our Austrian project partner Wood k plus uses comprehensive life cycle assessment to ensure that all products developed in the Dendromass4Europe project are truly sustainable in terms of their impact on the environment and society.